This article will teach you How to Implement Yahoo Gemini Dot tag on your wordpress website.
What is Yahoo Gemini Dot Tag ?
Dot Tag is Yahoo's universal tracking tag (used for other Yahoo Platforms along with Yahoo Gemini).
For, this article we will focus on Dot Tag's significance in relation to Yahoo Gemini.
Dot tag is used to communicate website and app events to track performance and optimize your advertising Campaigns (Yahoo search, native and display campaigns). Dot tag also enable you to leverage retargeting and advanced audience targeting for various Yahoo channels.
Dot tag is also referred as Pixel, so don't be confused if you come across the word.
Using a single pixel, you can manage multiple objectives, like creating new audiences for retargeting and tracking website conversions, mobile app installs and in-app user behavior.
Official Dot Tag Documentation: here
How does Gemini Dot Tag Works ?
By logging into your Gemini Account, you will be able to get your Dot tag code. Dot Tag comes in 2 different versions Javascript and Image Pixel (Javascript is recommended since the introduction of EU GDPR).
This Dot Tag code is then placed on website in the <head> here </head> tags.
Once implemented, Dot tag sends event data to Yahoo for use with your Yahoo advertising campaigns. The event data may be either through standard or custom implementation of Dot tagging.
In the standard Dot implementation, you place the tag in the <head> of every page on your website to transmit standard HTTP header information for each page a user visits, most importantly the URL of the page.
The more advanced option lets you send custom event parameters that transmit more complex event data (e.g., check out with a cart value of $ 25.99). You can then use the event data collected through your Dot tag to define specific conversion rules or retargeting segments.
Implementing Yahoo Gemini Dot Tag on your WordPress Website
Now lets, look at How we will implementing Dot tag code on a WordPress Website.
Pre-requisite:
1- You must be logged into your wordpress website.
2- You must be logged into your Yahoo Gemini Account (quick link to yahoo gemini opens in a new tab, so you can login if not already).
Now, firstly open your Gemini Account page.
Now, Click the Gear Icon on the Top Right.
Click – View Dot Tag Code
On this page you will see your Dot tag code.
You can even create a new Dot tag (if you want to track things separately within a couple of Dot tags)
Or use the Default Gemini Dot Tag.
Dot tag is available in 2 versions, but you only need to implement any one of these –
1- Javascript (Recommended)
Example: Please dont use this code on your website
2- Image
Now Open your WordPress Website Dashboard
or login not already – you can login to wordpress by placing /wp-login.php behind your website url.
Example: mrvirk.com/blog/wp-login.php
Now, we need to Edit – header.php file. Follow the steps below to find your header.php file.
1- Dashboard
2- Hover over – Appearance
3- Click Editor.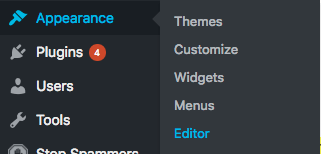 4- Now an Editor Opens – Listing Several files
5- Find and Choose header.php file
or skip steps 1 to 5 and instead place /wp-admin/theme-editor.php?file=header.php behind your domain/website url, this url will open header.php file in editor
Example: mrvirk.com/wp-admin/theme-editor.php?file=header.php
Now our next step is to copy Dot tag code from Gemini and place in <head> </head> tag.
To Watch a Video Tutorial on How to add code to head tag in wordpress ?
Click here – Watch Video tutorial or follow the steps below.
Towards the top of the file you will see <head> tags
Example:
<head> (opening tag)
some lines of code
</head> (closing tag)
As you can see in this example, now paste your Dot tag code just above the closing tag.
Save the File.
All done.