What is Ads.txt ?
In a nutshell, Ads.txt is a way for website owners and publishers to whitelist who can put ads on their website.
Ads.txt stands for Authorised Digital Sellers and is an IAB (Internet Advertising Bureau) standard used by the advertising community.
Ads.txt specifies a mechanism for publishers to list their authorised digital sellers, in order to fight against fraud and misrepresented domains.
Ads.txt Example
Below is an example of a Ads.txt implementation –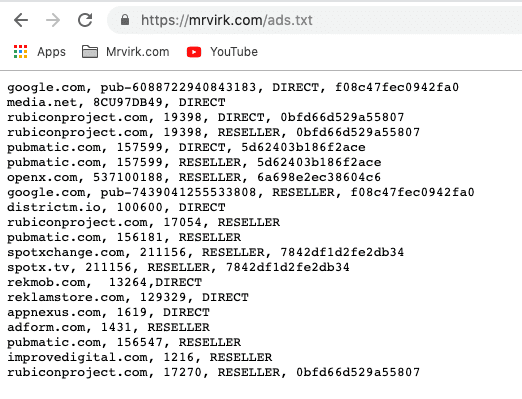 Where to Implement Ads.txt File ?
Ads.txt file must be implemented at the root of your domain.
Where to find a websites Ads.txt file ?
If you are looking for examples of Ads.txt files on the internet of your favourite websites, just add /ads.txt after the domain name of the website and you will be able to see the ads.txt file if it exists.
Related Articles
Correctly Implement Ads.txt and Fix Adsense Earnings at risk warning ?
more internet technology and advertising articles can be found here.