Hi Welcome to Mr. Virk Media, I am your host Navjot Singh. In, this article we will learn about CMS in detail. Look at the table of Contents to check, what's covered in this article.
What is CMS ?
CMS stands for Content Management System. As, by now you can imply it has all to do with content management. Let's, understand exactly what ?
CMS allows the content writers to write content (text, quotes, include images and videos on their page), in an easy to use user interface, where the writer does not have to interact with code at all.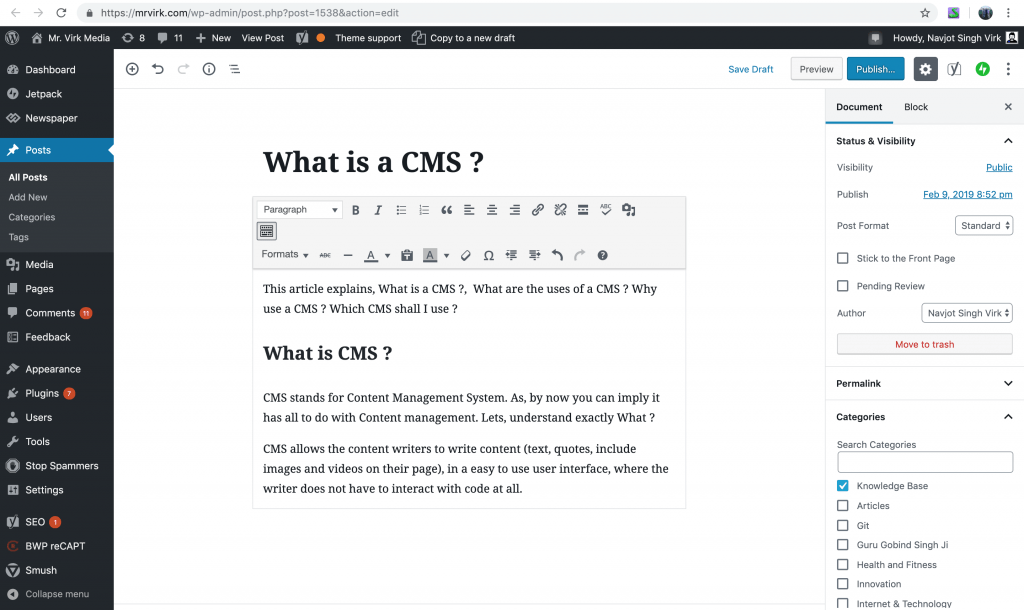 CMS vs HTML
It is important to understand that almost every website is made with a combination of HTML, CSS (Cascading Style Sheets) and Javascript.
The question is, was it coded from scratch, or is the web page using a CMS to create the page automatically and more easily?
To understand more, let's see – What is HTML ?
HTML is the building block of the Web.
HTML stands for HyperText Markup Language. It is a markup language used by web developers and designers to develop and design websites and pages, along with a combination of other web technologies like CSS and Javascript to make the page functional and user friendly.
If HTML can do the job, why use a CMS and not create a HTML websites (Static websites) ?
Even though HTML code is easy to learn and write, its hard to scale your website if you have to manage a lot of HTML code, as making changes to websites can be very challenging given each page will need to be updated individually, so making even the very small changes to a website is going to be a big job as the time passes and your website grows.
Static HTML are not the way to go, if growth is your aim but it's important to have a basic understanding of what is HTML and how it works to allow you to be a better webmaster.
Does CMS use HTML ?
The answer is Yes. CMS is a software program that's written with a combination of HTML, PHP, CSS, Javascript and others depending on the CMS you use.
The benefit to CMS is it does not expose you to the code, but give you a simple interface to work with where you can type, like if you were typing in a Microsoft word document.
What are the uses of a Content Management System (CMS) ?
Easy Content Management, changes can be easily made and saved to pages.
Effective Customisation to the website, changes made to CMS page template reflect on all the pages using it.
Better Collaboration and Accountability within the team, many people can work and update the same article and the CMS will keep a track what changes where made by which user, keeping the person accountable.
User Privilege Assignment, you can decide who can be admin, editor, reviewer and participant depending to their role in the team.
Simple Testing – you can test and preview the page before publishing to see everything looks good.
Version Control, most CMS support this, where you can revert back to the previous version of the page if you do not like the new changes.
Why use a CMS ?
If your website do not need frequent updates/changes, Static HTML Website is the way to go, since it's quite simple to set it up, even CMS is easy to start with as well.
And if you are looking to grow and scale your site, you must use a CMS, today almost every big website uses a CMS, some use whats freely available in the open source space and large corporations create their own CMS.
With a CMS, you can often use pre-built themes, templates, plugins to launch web pages more quickly and a lot of features.
You can then customise those templates to suit your business needs.
This is a lot faster than coding a site from scratch, and especially useful if you have little to no coding knowledge.
Which CMS shall I use ?
There is a variety of CMS present in the market.
These are some of the most widely used CMS –
WordPress.org – the number 1 open source(free) CMS, used by million of websites across the globe few notable ones – Techcrunch, Engadget, Facebook Newsroom, Sony Music, MTV News, Time Inc and so many others. Note: WordPress.com and WordPress.org are different and choose carefully, learn more
Medium – online publishing platform, again used by the most brilliant writer, the service is paid and owned by Medium Corporation, which is the only downside to using it, as you don't have full control over it.
Joomla – is a free and open source CMS, also know for its ease of use, but it has lost popularity to WordPress over the years and its market share.
Drupal
Magento
Blogger
Shopify
Weebly
WooCommerce
SquareSpace, etc.
My recommendation is WordPress, its easy to use and free, learn more about WordPress.
But do explore your options according to your needs before making a decision.
Related Articles:
How to Edit head Tag in WordPress ?